Open Tinkering/Python Perfect Lab
Class Schedule
Purchase Tickets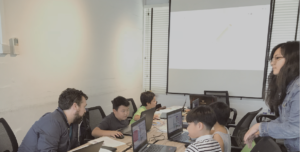 Open Tinkering Lab
The Open Tinkering Lab is a supervised intermediate coding lab that is designed for kids to work on their own projects or work on a coding activity provided by the instructor.  An instructor is present in the lab to mentor and supervise students.
Python Perfect Lab
The Python Perfect Lab is designed for students to practice and improve their coding skills.  Students work on increasingly challenging coding problems, with the help and guidance of a Coding Lab instructor.
Who is this for?
Children 12-17 years old
Completed Python 101
Course structure
Weekends: 2 hours
After-School: Lab is open from 15:00 — 19:00 (kids can start and stop when they choose)
Fees
Individual Tickets
¥5,000 + tax.
4 tickets — valid for 1 month
¥19,200 + tax
10+1 tickets — valid for 3 month
¥50,000 + tax.
In this day and age, coding skills are no longer just important for software developers.  Coding skills are becoming more and more important for vast ranges of disciplines, from the core sciences, to graphic designers, to sound produces, animators, and more.
Caleb enjoyed the course so much.. He is greatly inspired and created a new game today.. He could also articulate what he has learnt..
Trionna, Caleb's Mother
Schedule for upcoming classes
Purchase Tickets
Open Tinkering Lab Sign-Up/RSVP Process
RSVP (sign-up) for the dates you want to attend on the event page.
Purchase ticket.