Age 10 – 12
[su_tabs active="1″]
[su_tab title="Scratch" disabled="no" anchor="" url="" target="blank"]
August 9th, 2018
For students new to coding, we recommend starting with Scratch.
Step into the World of Programming
Specially designed for curious young minds who are new to coding / programming.  This course introduces children to computer programming, problem solving, and logical thinking. We believe in engaging children to be thinkers and creators through hands-on and project-based learning.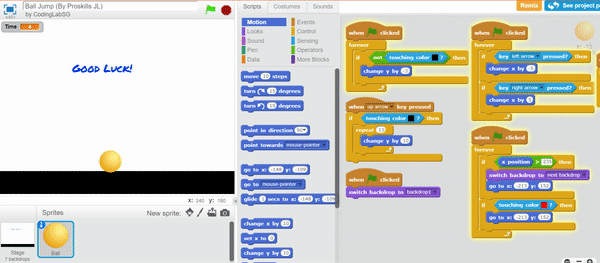 Students will design their own interactive stories, animations, and games using Scratch, a visual programming language.
Who is this for?
Children 10-12 years old
No Programming Experience Required
Course Formats
Online classes available!
Weekend Classes
(Saturday or Sunday)
2 hours x 5 days
After-School Classes
(1 day a week)
1.5 hours x 7 days
Holiday Camps
(Monday–Friday)
2 hours x 5 days
Class Info
Small Class Size: 8 students maximum
Laptop provided (one per child)
Online classes available
Beginner Scratch
The Beginner Scratch program is divided into two classes: Scratch Beginner 1 and Scratch Beginner 2.
Scratch Beginner 1
Introduction to  Scratch
Coding fundamentals: conditionals, loops, variables, and more.
Games, Animations, Interactive Stories
Debugging
Student Projects
Scratch Beginner 2
Review of Scratch
Coding fundamentals: inter-sprite communications, intro to object oriented programming with clones, functions, and more.
Game Design basics
Debugging
Student Projects
STEM Lab: Scratch
Coding classes for intermediate level students focused on a  STEM topic, such as robotics, game physics, game design, creative writing, A.I., and more.
Kids develop new coding skills and hone existing skills while exploring a new subject.  This allows kids to apply their coding skills to real, concrete problems, while doing something they enjoy!  Learn something new! And have fun!
There are two types of classes:
STEM Lab: Scratch General classes that change topics each class.
STEM Lab: Scratch Themed classes that focus on one specific topic.
STEM Lab: Scratch General Class
This class has a broad focus which explores many different STEM themes.  This lets kids explore  different technologies such as A.I., augmented reality, game design, mathematics, computer science, music, and more.  The content for this class is always different from the themed STEM classes, so students can take the general STEM classes and the themed STEM classes, without repeating lessons.
STEM Lab Themed Classes
Game Design
Minecraft
mBot Robotics
LEGO Robotics
micro:bits
Machine Learning
Creative Writing
Requirements
Completed Scratch Beginner 2 (or by approval)

[/su_tab]
[su_tab title="App Inventor 1″ disabled="no" anchor="" url="" target="blank"]
[su_tab title="App Inventor 2″ disabled="no" anchor="" url="" target="blank"]
[su_tab title="Python Junior 1″ disabled="no" anchor="" url="" target="blank"]
[su_tab title="Python Junior 2″ disabled="no" anchor="" url="" target="blank"]
[su_tab title="Advanced Computer Scientist" disabled="no" anchor="" url="" target="blank"]
[/su_tabs]